Exciting water sports of Goa
Goa is famous for its beaches. Goa has an almost unbroken 70 km coastline of beaches.
But do people come to Goa only for beaches? The truth is that Goa has a mixed bag of experiences to offer. Being a beach destination there are a number of water sport options available on Goa beaches. Goa has a long coastline and beaches that are suitable for water sports and adventure lovers.
Fishing
Blessed with plenty of beaches, Goa is the ideal place to try out fishing. Imagine the pride and the winning smile on your face when you come back holding a couple of fishes and proclaiming it as your prized catch! Sounds like fun? You guessed it right.
Water Skiing Sports:,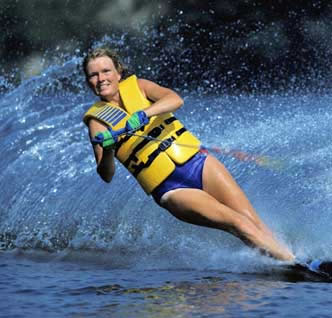 For those who want to go for adventure and want to feel that adrenaline rush, engulfed in the waves of oceans to feel the ocean waves splashing on their face, the water skiing is just the right way to feel it. Best time to go for skiing is from October to April.
Well, there is a difference between water skiing and surfing. Water skiing requires a boat and the skier is asked to grip on the rope from one end and the other end of the rope is tied to the boat and skier balances himself on ski and as the boat gains speed you balance yourself on the ski moving left and right according to the waves. While, Surfing is a sport of balancing yourself on the ski and speed is gained through waives in the oceans, and you need to balance yourself on the ski, this adventure is usually performed by those who have given ample time to learn Surfing so enjoy Skiing!
Jet Skiing
Jet skiing is one of the most adventurous water sports that are offered in Goa. This sport is quite popular among tourists in Goa. Many tourists try this sport while holidaying in Goa to get their adrenalin rushing. Jet skiing is usually done using a jet powered scooter that has a powerful engine. Most of the jet skiing scooters available in Goa have a power of 100-135 horsepower. These scooters can accelerate at very high speeds. Although these machines have a powerful machine, they are fairly simple to use and quite balanced. However, when trying out this sport, you must follow the instructions carefully that are given by the operators. In most cases, you will be accompanied by an instructor. A jet ski usually has the capacity to sit up to three people. So, you can definitely enjoy the thrill of jet skiing with a friend or partner, making it an even more enjoyable experience.
Parasailing:
As it is well known that Goa is not only famous for site seeing and beautiful locations but it is also famous for adventure sports. One of them is Para sailing. Parasailing can give a high to anyone by a mere thought of it. Parasailing is also called Parascending. In this sport, a parachute is tied to the speed boats. Boats are released in water and the parachute holder starts flying in air.Though this water sports is available at many beaches but parasailing on Sinquerim-Candolim-Calangute is special since you get the views of Fort Aguada and River Princess (grounded tanker). Otherwise you can also para sail at Arrossim-Cansaulim and Utorda stretch, Mobor beach and Miramar.
Scuba Diving
Scuba Diving is basically one of the very exciting water sports in which one experiences under water diving and also gets a chance to see and touch the various mesmeric astonishing aspects of marine life. This is one of the most fun activities in which one gets the chance to swim along with bright and beautiful fishes, lobsters, coral heeds and other underwater creatures. One also experiences the unforgettable magnificence of azure sea in the heart of which there are thousands of unseen fascinating creatures.
If you aren't a certified scuba diver, you can find Goa scuba diving lessons and gear during your adventure vacation, for your entire family. Yes, even the kids can learn Goa scuba diving in total safety with experienced guides.
You can have a great time exploring the depths and their mysterious and exciting ecosystem.
Windsurfing is a unique water sport that involves both surfing and sailing. What is essentially required of a wind surfer is strength to regulate and balance to the changing patterns of wind and water. By shifting ones feet forward or backward, leaning towards the right or left, the windsurfer maneuvers and harmonizes the wind and water.
Dona Paula bay is considered to be the ideal location for those who are trying their hand at it for the very first time. Also, the morning breeze is apt for learners as it is light and steady.
Much of the popularity of wind surfing in Goa goes to Windsurfing Regatta which has now become an annual event. The Open Board Sailing Competition also is a major attraction to the water sport lovers.
Some of the beaches in Goa which are famous for wind surfing are, Anjuna Beach and Baga Beach.
Dinghy Sailing
Dinghy sailing is the water sport in which small boats are sailed by keeping in consideration the five essentials. The 5 basic necessities for dinghy sailing are sails, centerboard/dagger board plus a rudder, the trim, balancing the dinghy side to side with the help of crew movements in the times of unsuitable weather conditions and a route choice which is effective and suitable for Dinghy sailing along with skills which are perfect for the sport. Dingy sailing in Goa is a very interesting activity.
So if you have all of them and want to try your hand out on it then in India, Goa is one of the most popular destinations for it. Contrast to other water sports like wind surfing, snorkeling, scuba diving, etc. Dinghy Sailing is considered as one of the sports which do not require one to be a perfect athlete neither does one require to have lots of daring within to perform this sport. So if you are the one who has passion for sailing but is scared then the perfect water sport for you is dinghy sailing.