Wayanad district stands on the southern tip of the Deccan plateau and its chief glory is the majestic rugged terrain of the Western ghats, with lofty ridges interspersed with dense forest, tangled jungles and deep valleys. Quite a large area of the district is covered by
forest
but the continued and indiscriminate exploitation of the
natural resources
point towards an imminent
crisis.
Places to visit in Wayanad
Chembra Peak
It is the highest hill in Wayanad located near Meppady town. It is popular for trekking.
Kuruva Island
Kuruva Islands is 17 km east of Mananthavady and 40 km north west of Sulthan Bathery, nearby towns in Wayanad District. More details can be sought in district office of Department of Tourism, Wayanad in Kalpetta.
The island surrounded by streams and river can be accessed using rafts or fiber boats run by
Kerala Tourism Department
. Entrance to the island is restricted and monitored by Vana Samrakshana Samiti, a
Dept of Forest of Kerala
initiative to protect forest, and at times of heavy rain and frequency of elephants and other animals to the island a pass obtained prior to the visit of spot from Dept of Forest is mandatory.
Edakkal Cave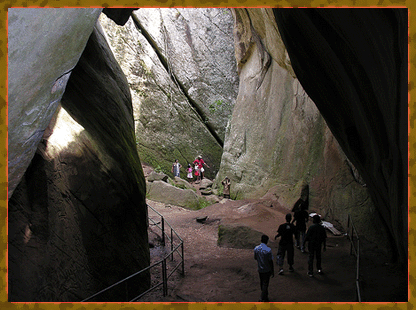 Edakkal Caves
are two natural caves at a remote location at
Edakkal
, 25 km from
Kalpetta
in the
Wayanad district
of
Kerala
in
India
's
Western Ghats
. They lie 1,200 metres above sea level on
Ambukutty Mala
, beside an ancient trade route connecting the high mountains of Mysore to the ports of the
Malabar coast
. Inside the caves are pictorial writings believed to be dating to at least 5000 BC, from the
Neolithic
man, indicating the presence of a prehistoric civilization or settlement in this region.
The
Stone Age
carvings of Edakkal are rare and are the only known examples from south India
Banasura Sagar Dam
This is a great place for a long nature photo ops session. The reservoir, the flowing hills of the
Western Ghats
in the background and the many islands on this dam account for a very serene and picturesque view.
Situated about 20 kms from Kalpetta, the district headquarters of
Wayanad
in
Kerala
,
Banasura Sagar Dam
is the largest earthen dam in India and the second largest in Asia.
Muthanga Wild

Life

Sanctuary
It is on the way from Mysore to Sulthan Bathery. Wild animals such as
bison
,
elephant
,
deer
, and
tiger
has been spotted. There are also quite a few wild birds in the sanctuary.
Muthanga declared as a Project Elephant site due to
presence of large elephant population. Rich in an exotic variety of flora and fauna, the sanctuary is a photographer's paradise. Muthanga Wildlife Sanctuary is an ideal destination for adventure seekers and nature enthusiasts.
Lakkidi
Lakkidi
is the gateway of
Wayanad
district of
Kerala
state,
south India
. It gets the second highest degree of rainfall in the world. Lakkidi is one of the highest locations in Wayanad. It is situated 700 m above mean sea level, atop
Thamarassery ghat pass
.
Vythiri
is the nearest town, just 5 km from Lakkidi.
Chain tree
,
Pookot Lake
, Sight seeing point on
ghat road
and number of tourist resorts are within 5 km from Lakkidi. It is about 58 km north east of Kozhikode district.
Pakshipathalam
Pakshipathalam in the Brahmagiri hills at Thirunelli, is a challenging tourist spot for any adventure seeking tourist. To reach Pakshipathalam seventeen kilometres have to be covered through wild forest. The deep rock caves, formed among the thick blocks of rocks at the northern top end of the Brahmagiri, are the abode of various birds and wild beasts. Special permission has to be obtained from Forest Department to go to Pakshipathalam. District Tourism Promotion Council arranges vehicle, guides, camping equipments, etc. to the tourists, on hire.
Pazhassi Tourist Resort
It is a nice picnic spot located in Mananthavady with many facilities like boating on offer. The local king Pazhassi Raja was buried here.
waterfalls
You can check various waterfalls like Soochipara, Kanthapara, and Meenmutty waterfalls in the Meppadi-Ambalavayal region. Also, Sentinel rock waterfalls is located in Vellarimala village near Chooralmala under Meppadi panchayat.
Pookot Lake
Pookode Lake
is a scenic freshwater
lake
in
Wayanad
district,
Kerala
,
South India
. The lake is surrounded by forests, and
boating
is allowed. Recent commercial modernisations have removed some of its
wilderness
charms. Panamaram, the rivulet which ultimately becomes
Kabani River
, originates from the Pookode lake.