Places to visit in Jammu
Jammu is known for its

landscape

,

ancient temples

,
Hindu
shrines

,
Amar Mahal Palace
(a castle type) now a

Museum,
gardens

and

forts
.
Hindu
holy shrines of
Amarnath
and Vaishno Dev

i attracts tens of thousands of Hindu devotees every year. Jammu's beautiful natural landscape has made it one of the most favoured destinations for adventure tourism
in
South Asia
. Jammu's historic monuments feature a unique blend of Islamic and
Hindu
architecture styles.
Purmandal, also known as
Chhota Kashi
, is located 35 km from Jammu city. An ancient holy place, it has several temples of
Shiva
and other deities. On
Shivratri
, the town wears a festive look and for three days as people celebrate the marriage of Lord Shiva to Goddess
Parvati.
Nandini Wildlife Sanctuary, called and best known for wonderful species of pheasants, has been established in an area of thick forests teeming with wild life. It is renowned natural habitat for a significant population of pheasants. Among the other avifauna are
Indian mynah

,

Blue Rock Pigeon

,

Indian Peafowl

,

Red Junglefowl

,

Cheer Pheasant
and
chakor

.
Spread over an area of 34 km
2
, the sanctuary is rich in fauna and provides refuge to a wide variety of
mammals.
The main species are
leopard

,

wild boar

,

rhesus monkey

,

bharal

and

grey langur
Situated 62 km from Jammu,
Mansar Lake
is a beautiful lake fringed by forest-covered hills, over a mile in length by half-a-mile in width.
34°14′54.35″N
74°40′3.43″E
Besides being a popular excursion destination in Jammu, it is also a holy site, sharing the legend and sanctity of
Lake Mansarovar.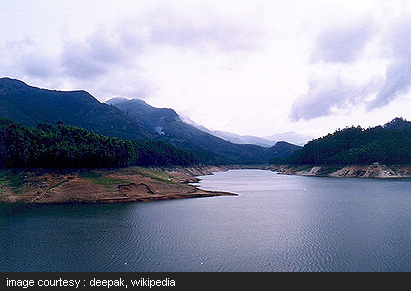 On the eastern bank of Mansar Lake there is a shrine dedicated to Sheshnag, a mythological snake with six heads. The shrine comprises a big boulder on which are placed a number of iron chains perhaps representing the small serpents waiting on the tutelary deity of the Sheshnag. Newlyweds consider it auspicious to perform three circumambulations (Parikarma) around the lake to seek the blessings of Sheshnag.
Two ancient temples of Umapati Mahadev and Narsimha and a temple of Durga are situated in the vicinity of the Mansar Lake, which are visited by devotees in large numbers. People take a holy dip in the water of the lake on festive occasions. Certain communities of Hindus perform the
Mundan
ceremony (first hair cut) of their male children here.
The Mansar Lake road joins to another important road that directly links
Pathankot
to
Udhampur
. Udhampur is a town of strategic importance, on National Highway No. 1A. The shortcut road from Mansar or Samba to Udhampur by-pass the Jammu town. Surinsar Lake, a smaller lake that is linked to Mansar, is 24 km from Jammu via the by-pass road.
Bahu Fort,
which also serves as a religious temple, is situated about 5 km from Jammu city on a rock face on the left bank of the river Tawi. This is perhaps the oldest fort and edifice in Jammu city. Constructed originally by Raja Bahulochan over 300 years ago, the fort was improved and rebuilt by Dogra rulers. Inside the fort, there is a temple dedicated to the Goddess
Kali
, popularly known as
Bave Wali Mata
, the presiding deity of Jammu. Every Tuesday and Sunday pilgrims throng this temple and partake in "Tawi flowing worship". Today the fort is surrounded with a beautiful terraced garden which is a favourite
picnic
spot of the city folk.
Bagh-E-Bahu located on the banks of Tawi river, is a Mughal-age garden. It gives a nice view of the old city and Tawi river. Bagh itself is very beautiful. There is a small cafeteria on one side of the garden.
On the by-pass road behind Bahu Fort, the city forest surrounds the ancient
Mahamaya
Temple overlooking the river Tawi. A small garden surrounded by acres of woods provides a commanding view of the city.
Opposite the Bahu Fort, overlooking the River
Tawi
is a temple dedicated to
Mahamaya
of Dogra decent, who lost her life fourteen centuries ago fighting foreign invaders. The present temple of Bawey Wali Mata was built shortly after the coronation of
Maharaja Gulab Singh
, in 1822. It is also known as the temple of
Mahakal
i
and the goddess is considered second only to Mata Vaishno Devi in terms of mystical power.
Amongst the
temples
in Jammu, the
Raghunath Temple
takes pride of place being situated right in the heart of the city. This temple is situated at the city center and was built in 1857. Work on the temple was started by Maharaja Gulab Singh, founder of the Kingdom of Jammu and Kashmir, in 1835 AD and was completed by his son Maharaja
Ranbir Singh
in 1860 AD. The inner walls of the main temple are covered with gold sheet on three sides. There are many galleries with l
akhs
of
saligrams
. The surrounding Temples are dedicated to various Gods and Goddesses connected with the epic
Ramayana
. This temple consists of seven shrines, each with a tower of its own. It is the largest temple complex in northern India. Though 130 years old, the complex is remarkable for sacred scriptures, one of the richest collections of ancient texts and manuscripts in its library. Its arches, surface and niches are undoubtedly influenced by
Mughal architecture
while the interiors of the temple are plated with gold. The main sanctuary is dedicated to Lord
Vishnu's
eighth incarnation and Dogras' patron deity, the
Rama.
It also houses a
Sanskrit
Library containing rare
Sanskrit
manuscripts.
Alongside the same Tawi river are the Peer Kho Cave temple, the Panchbakhtar temple and the Ranbireshwar temple dedicated to Lord Shiva with their own legends and specific days of worship. Peer Kho cave is located on the bank of river Tawi and it is widely believed that Ramayan characterJamvant (the bear god) meditated in this cave. The Ranbireshwar Temple has twelve Shiva lingams of crystal measuring 12" to 18" and galleries with thousands of
saligrams
fixed on stone slabs. Located on the Shalimar Road near the New Secretariat, and built by Maharaja Ranbir Singh in 1883 AD. It has one central lingam measuring seven and a half feet height (2.3 m) and twelve Shiva lingams of crystal measuring from 15 cm to 38 cm and galleries with thousands of Shiva lingams fixed on stone slabs.
The cave shrine of Shivkhori, situated in District Reasi of Jammu and Kashmir state, depicts the natural formation of shivlingum. It is one of the most venerated cave shrines of Lord Shiva in the region. The Holy cave is more than 150 mts long & houses 4 feet high Svayambhu Lingum, which constantly baths in a milky lime fluid dripping from the ceiling. The cave is full of natural impression and images of various Hindu Deities and full of divine feelings. That is why Shivkhori is known as "Home of Gods". The route from Jammu to Shiv Khori is full of beautiful and picturesque mountains, waterfalls and lakes
Machel Mata The Chandi Maa temple is located in the village Machel, Distt Kishtwar, Jammu Region. The place is about 290KM from Jammu. During 'Chhadi Yatra', thousands of people visit the shrine.
Jammu is known for its Chocolate Barfi, Sund panjeeri,Patisa and its exotic local food - Rajma (with rice) is one of the specialty dishes of Jammu. Another specialty of Jammu is Kalaadi which is processed cheese.
Dogri food specialties include Ambal, Khatta Meat, Kulthein di Dal, Dal Patt, Maa da Madra, Rajma, and Auriya. Pickles typical of Jammu are made of Kasrod, Girgle, Mango with Saunf, Zimikand, Tyaoo, Seyoo, and Potatoes. Auriya is a dish made with Potatoes. During weddings it is typical to make Kayoor, and Sund.
Jammu folks love their chaats specially Gol Gappas, Kachaalo, Gulgule, Rajma Kulche, Nutri Kulche etc.