Information about Kumarakom
Kumarakom
is a popular tourism destination located near the city of
Kottayam
(16 kilometres (10 mi)), in
Kerala
,
India
, famous for its backwater tourism. It is set in the backdrop of the
Vembanad Lake
which is the largest freshwater lake in the state of
Kerala
.
Kumarakom is home to a wide variety of flora and fauna.
Kumarakom Bird Sanctuary
is a noted
bird sanctuary
where many species of migratory birds visit. The
Vembanad
Lake, the largest backwater in Kerala, is habitat for many marine and freshwater fish species and it teems with
Karimeen
(
Pearl spot
),
shrimp
(
chemmeen
in the local language) and
prawns
. The bird sanctuary extends over 14 acres (57,000 m²), and came into existence following preservation efforts from the government. It is a very beautiful place to live. It is a major tourist attraction.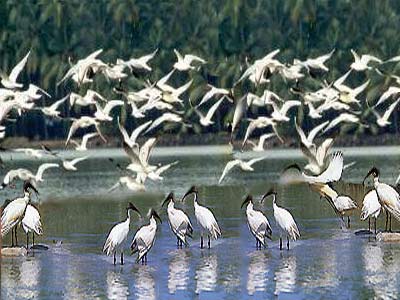 Tourism in Kumarakom largely revolves around the backwaters of the Vembanad Lake. Several luxury and budget resorts lined up on the shores of the lake provide tourists with facilities for boating, yachting and fishing, with panoramic views of the lake. The other major attraction is the Bird Sanctuary which can be visited by canoes arranged by local fishermen at the entrance to the sanctuary. A two-hour rowing
canoe
trip is quite cheap, and is best undertaken in the evening or early morning to avoid the afternoon sun.
Kumarakom has a wide variety of houseboats and is well known throughout the world for houseboat experience. They are used only for tourists these days. A separate boat known as Kettuvallam is used by the people to go fishing or to transport goods. Apart from these, there are elegant special boats like Kochu-odi Vallam, Odi-Vallam, Iruttukutthi Vallam, Churulan Vallam and Chundan Vallam(Snake Boat), which take part in the boat races around Onam time. The Kumarakom boat-race is conducted in the big canal in the centre near the market. There is a private sailing club in Kumarakom, located on the shore of the Vembanad lake.
Kumarakom has been declared a Special Tourism Zone by the Kerala state Government, as legislated for by Kerala Tourism.